In Naples
Outside Naples
Phlegraean Fields, North West of Naples
The 
Phlegraen Fields
 : craters, lakes, volcanic phenomena, archaeological sites, … These places are imbued with mythological Greek and Roman stories.
Pozzuoli
, founded by Greek refugees in the 3rd century BC. The city center was evacuated in the early 1970s because of movements of bradyseism.
To see: the temple of Serapis, the amphitheater, the historic center, the small fishing port with its fish restaurants.
The crater of the volcano 
Solfatara
: fumaroles, sulfurous gases escape permanently.
Cumae
is a very old Greek colony, dating back to the 8th century BC. To see: Arco Felice, the archaeological park.
Posillipo Hill and Virgiliano Park
From the hill of Posillipo, the view on the Bay of Naples is magnificent, it was an ancient resort of the rich Roman of antiquity.
From the Virgiliano Park one can enjoy a superb panorama on the Gulf of Naples, Pozzuoli, the bay and the islands of Capri and Ischia.
Vomero Hill
On the heights of Naples, this residential area also offers a panorama of Naples.
To see: Villa Floridiana, the castel Sant'Elmo, the Charterhouse San Martino, via Scarlatti with its many shops, the Pedamentina: street in stairs that goes down to the city center.
The islands of Capri, Ischia and Procida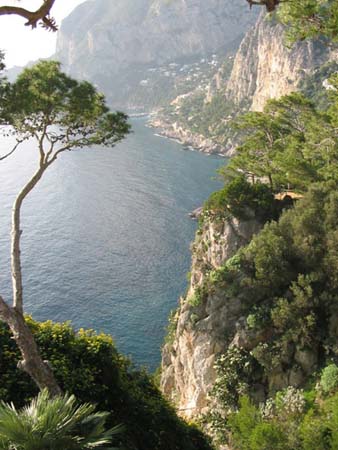 Accessible by boat or hydrofoil from the port of Mergellina, Molo Beverollo (port of the city center) or Pozzuoli for Ischia and Procida.
Capri, further away, can also be reached from the port of Sorrento on the Amalfi Coast.
Ischia is the largest island of the Gulf of Naples, very touristy, it is known for its spa and beaches. To see: Ischia porto, Ischia Ponte (village of sinners). Possibility to go around the island by bus (about 2 hours).
Procida is the smallest of the Gulf Islands, less touristy, it is undoubtedly the most authentic.
Herculaneum, Pompeii, Vesuvius, Sorrento, the Amalfi Coast
Herculaneum
 is located 12 km far from Naples. During the eruption of Vesuvius in 79 this rich city had about 4500 inhabitants. It was totally engulfed by a stream of lava and mud. Some villas appear better preserved than in Pompeii. Visit: count about 2 hours.
Pompeii
 is located 25 km far from Naples. It is a vast and wonderful site. Visit : about 5 hours.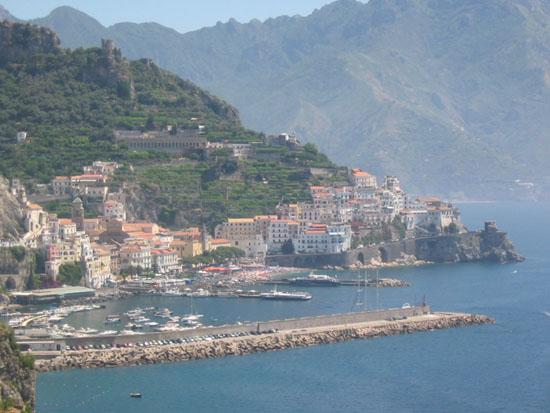 The
Vesuvius
is 12 km far from Naples, it is a permanent threat, its last eruption was in 1944.
The Amalfi coast is an enchantment. Its panoramic route is one of the most beautiful in the Mediterranean. To see: Positano, Praiano, Amalfi, Ravello, Minori, Maiori, etc.
See website about Amalfi coast
In the same category