Small island of the Gulf of Naples with 4 km², Procida is also the most beautiful. It has remained authentic despite its proximity to the coast.
Clinging to the rock, its colorful houses of sinners are emblematic of the island, especially in Marina di Corricella.
The maze of alleys and stairs is a pleasure to browse a little at random.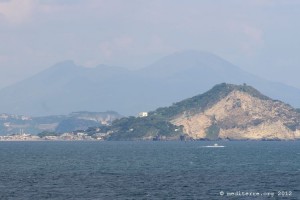 You can enjoy beautiful views of the Gulf of Naples, including the promontory of the citadel of Terra Murata. This is the historic heart of the island, which served as a refuge in the Middle Ages.
San Michele Abbey (St. Michael, the patron saint of Procida), dates back to the sixteenth century.
You can swim in Chiaia or Silurenza, or on the other side of the island where some beaches are good for swimming like in Ciraccielo or in Cala del Pozzo Vecchio.