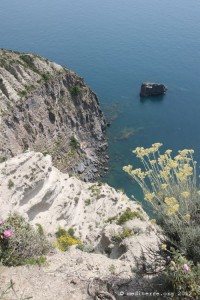 The largest island of the Gulf of Naples, the island of Ischia is located between the islands of Procida and Vivara, it measures 46 km². It has been celebrated since antiquity for its nature, its blue sea and its landscapes. It has always been a refuge for poets or other intellectuals. It is a volcanic island, with many termal baths.
With its typically Mediterranean climate, the island of Ischia is a pleasant place to spend holidays. Not only their beaches and thermal baths, but one can also hike, by foot, by horseback or by bike. The gastronomy is also famous there.
The Greeks would have called it "big vase", recalling the pottery that was produced there. It was also called "Arime", and "Inarime", "Land of Fire" by Virgil because of its fumaroles, still active today. The Romans referred to it as "Aenaria Island", the island of Aeneas. Because legends indicate that Aeneas would have landed there.
The term Ischia appears in 813 in a letter in which Pope Leo III calls for help to Charlemagne, against the Saracens, who plundered the island. This term comes from Isola, island.
Ischia is divided into six communes. The most important is Ischia. Most of the infrastructure is there. In Ischia Ponte is the beautiful Aragonese castle.
Casamicciola has long been a spa town. There is a municipal museum that recounts the ancient and recent history of the village, completely rebuilt after an earthquake in 83.
In Lacco Almeno were found Greek remains of the eighth century BC. They are among the oldest.
In Forio there is an old defense tower. The village is nice.
Serrara Fontana is the highest altitude. Trails leave to reach Mount Epomeo, the highest point of the island, from where the view is splendid. On the comune is also the islet of Sant'Angelo, a tourist destination.
In the rural village of Barano, time seems to have stopped.
Map of Ischia
Visit around Ischia
Ischia and Ischia porto
Forio
Marina dei Maronti
Sant'Angelo and Parco Cava Grande
Scaruupata, San Pancrazio, aqueduc
Punta imperatore and south-west coast
Monte di Ischia and forest
Source Olmitello and beach
Panza
Barano d'Ischia
In the same category