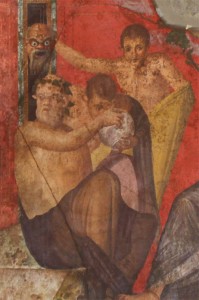 The archaeological site of Pompeii is located in Campania, about thirty kilometers from Naples, and at the foot of Vesuvius.
Founded in the 6th century BC BC, it had about 20000 inhabitants in the year 79 of our era. The city, very flourishing, was populated by merchants and artisans. This is the year when it was completely buried, along with the other cities of Herculaneum and Stabia, during a Pliny eruption of the volcano.
Forgotten for 1,600 years, it was rediscovered by chance to become today one of the jewels of archeology and an extraordinary testimony of the Roman world under the empire.
Among the most notable remains are the Atrium of the House of the Vetti Brothers, the House of Mysteries, the Lupanar, the Centennial House, the House of the Golden Loves, the Forum, the Baths, the Amphitheater.
The recommended duration for visiting the Pompeii site is about 5 hours.