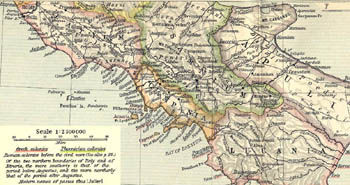 The first settlers were Greek sailors from the island of Rhodes.
They settled on the islet of Megaride (that of the current castle of the egg – Castel dell'Ovo) then in the nearby hill of Pizzofalcone. The merchant colony founded on the islet was called Parthenope.
Around the 8th century BC, people from the Greek colony of Cumae immigrated tothe hamlet of Pizzofalcone and around .
In 680 BC, Partenope was already a thriving city that aroused the envy of the people of Cumae. They destroyed the colony.
A few years later, settlers from Euboea, who were fleeing a terrible epidemic, reconcepted Partenope.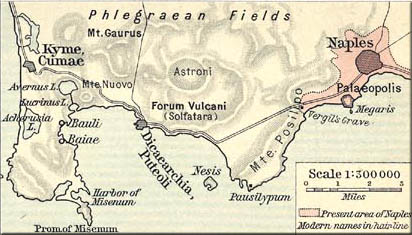 In 475 BC, other settlers from Cumae founded a town at the east of the old Partenope and close to it; for this reason it was called "neá Pólis" (New Town).
Around 400 BC, the walls of Neapolis (Naples) resist the siege of the Samnites who had conquered the territories of Cumae from the "Capo Miseno" to even Cumae until to the port of Dicearchia (now Pozzuoli).
At that time, the enclosure was powerful.
So powerful that when Naples allied with the Romans, the Phoenician invader Hannibal had to retreat in front of its walls.
At the beginning of Rome, the city had become an important commercial and agricultural center.
In 326 BC, following the Samnite wars, the Roman consul Quinto Publilio Filone entered Naples and made it a Roman colony.
In the same category