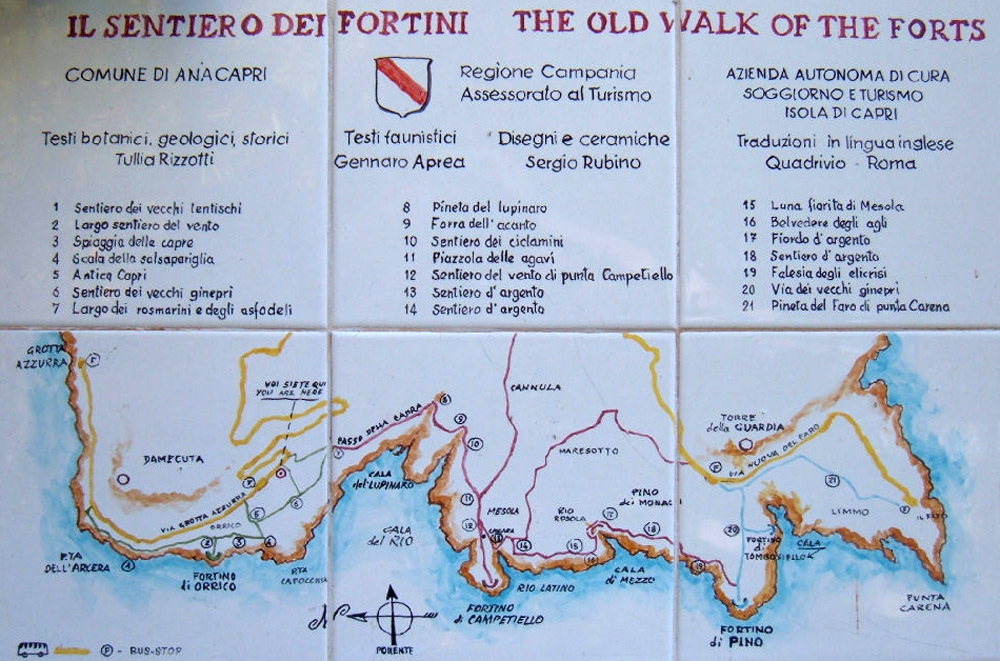 The Via dei Fortini is a path that crosses the western coast of the island of Capri through four forts (Fortini). It crosses very beautiful sites of the coast, cliffs, promontories and small creeks, connecting the Blue Grotto (Grotta azzurra) to the lighthouse of the Punta carena (faro della Punta carena). It takes about 3 hours to complete it.
The path is marked with points of red paint.
The forts were built between the ninth and fifteenth centuries to monitor the coast, regularly attacked by pirates (including Saracen pirates).
Leaving from the Blue Grotto, the path goes below the Imperial Villa of Damecuta, Punta dell'Arcera, to then reach the Fort of Orrico, on the Punta del Miglio. A French landing took place here on October 4, 1808, taking by surprise the English who occupied the island. The semicircular fort is 20 meters in diameter, with walls 2 meters thick. It housed two cannons.
From Fort Orrico, you can see the circular stone structure of Fortino di Mesola, well integrated in the rocky landscape, on the promontory Campietello. It overlooks Cala del Rio, the cove that follows that of Cala del Lupinaro. The path leading to it is partly wooded. This is the most important of the forts. There were also two cannons there.
After the Mesola fort, the path continues along the wildest part of the route to the entrance of Cala di Mezzo which leads to a stone staircase. We arrive at the fortino di Pino overlooking the Cala di Tombosiello. The continuous path passing through the fortino dell canone.
A rather steep climb then leads to Punta Carena, dominated by the lighthouse and from which you can admire the sunset that colors the purple-red coastline.
Path of the forts – Informations
In the same category