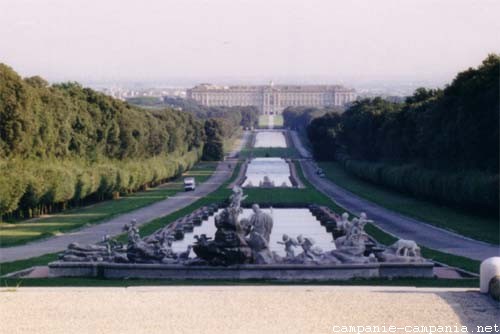 The Royal Palace of Caserta (in Italian "Reggia di Caserta") was a residence of the royal family of the Bourbons of Naples. Sometimes called the Versailles of Italy, the monument has not only a sumptuous palace 61 000 m² large, but also a large park and water garden, woods and hunting lodges.
It is one of the most visited Italian monuments, whose rooms are finely decorated and whose garden is one of the largest in Campania. It is inscribed on the heritage of humanity by UNESCO.
The palace was built under Charles of Bourbon (Madrid 1716 – Madrid 1788), King of the Two Sicilies from 1734 (known as Charles in Sicily, Charles VII in Naples, and Charles III of Spain when he returned to Madrid in 1759 ).
The project was entrusted to the architect Luigi Vanvitelli with the aim of competing with Versailles and the Royal Palace of Madrid.
The original plan, wanted by Charles de Bourbon, but which was not realized, was to move Caserta state administration, and connect it to the capital, Naples, by a monumental avenue of more than 20 kilometers.
The production ran from 1752 to 1780. Carlo Vanvitelli, son of Luigi replaced him after his death.
At the death of Ferdinand VI, king of Spain in 1759, Charles went to Madrid to succeed him, without interrupting the work of construction.
The building is structured around four large internal courtyards. The park, inspired by those of Louis XIV, was also imagined and directed by Vanvitelli. It extends over 120 hectares, part climbs the hill. A long driveway, facing the back facade of the palace, is decorated with fountains, ponds and waterfalls.
In order to supply the basins with water, a long aqueduct was built by Vanvitelli.

Photos of the gardens of the reggia

En savoir plus :
In the same category