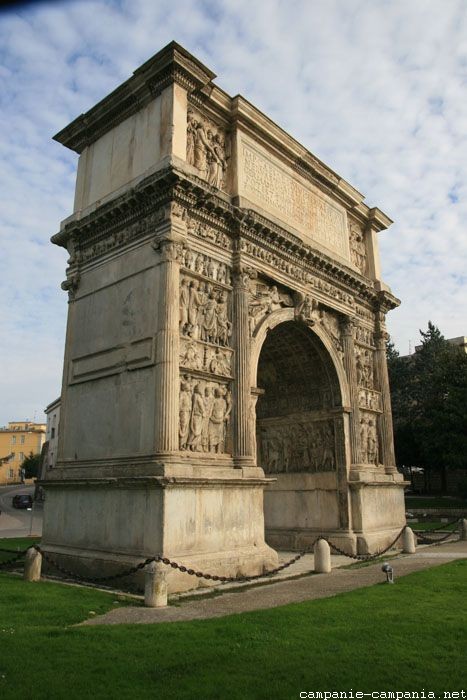 The triumphal arch was erected in honor of Emperor Trajan between 114 and 117. It was the gateway to Via Appia Traiana, a road built by the emperor to connect Rome with Brindisi, leaving from Benevento, in order to save time compared to the Appian Way (Via Appia), following in particular the Adriatic coast.
This arch is not only the most important monument of the city, but also one of the best works of its kind, which has remained virtually intact, thanks to several restoration.
The reliefs of the pylons represent civil scenes of peace and military.
During the Lombard duchy period, the arc was incorporated into the northern part of the enclosure.
It is 15.60 m high and 8.60 m wide, made of limestone blocks, covered with carved Paros marble.
The main inscription:
IMP[eratori] CAESARI DIVI NERVAE FILIO
NERVAE TRAIANO OPTIMO AVG[usto]
GERMANICO DACICO PONTIF[ici] MAX[imo] TRIB[unicia]
POTEST[ate] XVIII IMP[eratori] VII CO[n]S[uli] VI P[atri] P[atriae]
FORTISSIMO PRINCIPI SENATVS P[opulus]Q[ue] R[omanus]
Translation :
"For the Emperor Caesar, son of the divine Nerva, Nerva Trajan Augustus Germanicus Dacico,, Grand Pontiff, (invested) the tribunitian power eighteen (times), (acclaimed) Emperor seven (times), consul six (times) , the father of the fatherland, mighty prince, the Senate and the Roman people. "
Learn more :
In the same category